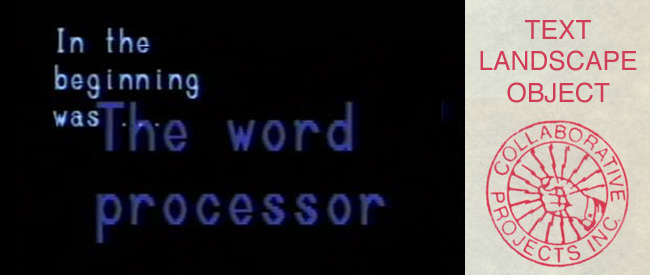 In and Around Collaborative Projects, Inc.
Spectacle, 124 S. 3rd Street, Brooklyn, NY
Spectacle is pleased to host this survey of film and video works generated in and around famed no-wave NYC artists' group Collaborative Projects, Inc., aka Colab. Organized by Laura Kenner and Rachel Valinsky, the series runs in conjunction with springtime programs at James Fuentes Gallery, ABC No Rio, The Lodge Gallery, and Cuchifritos Gallery + Project Space, commemorating Colab's 1980 exhibition/action The Real Estate Show.
PROGRAM 2: TEXT / LANDSCAPE / OBJECT
WEDNESDAY, MAY 14 – 8:00 PM
Liza Béar, Andrea Callard, Coleen Fitzgibbon in attendance!
"Text / Landscape / Object" explores the poetic and personal short films of three distinct female filmmakers' works from the mid 70s to early 80s. Mining the relationships between image and text, landscape and object, Liza Béar, Coleen Fitzgibbon, and Andrea Callard each take a unique approach toward developing a highly personal idiom of the image in motion using both film and video. This program is roughly divided into three categories that often seep into one another: experiments in video poetics and communication (Béar) and examinations of found text and speech (Fitzgibbon); landscapes as real and imagined, dreamt and mirage-like (Béar and Fitzgibbon); and the relationship of everyday objects to bodies in space (Callard).
DICTIONARY
Dir. Coleen Fitzgibbon, 1975
USA, 4 min.
Filmed in several parts, Dictionary is a hyper-kinetic work, which runs through the R and the Un- sections of Webster's Dictionary, using a microfilm camera to photograph and preserve paper documents on a roll of 16mm film. Fitzgibbon contemplates: the yellow notebook and blade-less knife handle were missing when the blue car impacted the red car.
TIME (COVER TO COVER)
Dir. Coleen Fitzgibbon, 1975
USA, 9 min.
A schizophrenic look at the news: in Time, Fitzgibbon filmed, cover to cover, micro text film of the November 1974 issue of the US, English language monthly periodical, Time, overlaying rapid, constantly scrolling shots, with a muffled, cut-up voiceover soundtrack of Daniel Ellsberg interviewed by Tom Snyder on the Pentagon Papers.
EARTHGLOW
Dir. Liza Béar, 1983
USA, 8 min.
"In the beginning / Was the word processor." Liza Béar's Earthglow (1983) is a poetic film where words take the place of images to trace the artist/writer's inner monologue. Through changes in color, type, placement and movement of words within the frame (that foreshadowed digital fades, slides, and other transition techniques…). Béar's poetry, like a "Proustian sentence" takes the viewer/reader through warm Pacific suns, movie theaters, city streets (honking and street noise play in the background), recollections of a desert landscape, airplanes and deep sleep, always through the reflexive allusion to the process of writing. As "she strain[s] to remember her thoughts," a "story line or board" emerges. Electronic engineering by Bruce Tovsky.
"A city dweller attempting to write a poem about a desert trip is distracted by a recent argument. Earthglow, whose only images are words, uses character animation to convey the writer's internal dilemma through the shuttling of words across the screen, as well as color changes and ambient sound. Using an analogue character and switcher in a live edit, parts of the text are keyed in real-time and others are pre-recorded. On the score, an off-air burst from a Billie Holiday blues song (whose lyrics infiltrate the words of the poem) disrupts the strains of César Franck's Violin Sonata. Earthglow is a film about the writing state of mind; past and present perceptions are reconciled in the act of writing."
– Liza Béar
FOUND FILM FLASHES
Dir. Coleen Fitzgibbon, 1973
USA, 3 min.
Fitzgibbon's Found Film Flashes crafts an elliptical evocation of desire and sexual spectacle out of found footage. Strewn with fragments of black and white shots, Found Film Flashes is a collage of recurring speech fragments, where sound and image are particularly disjunctive. Voice over provides a commentary on an audiotape, while an obsessive, repetitious voice returns to the phrase, "It's about tonight, it's about tonight."
TRIP TO CAROLEE
Dir. Coleen Fitzgibbon, 1974
USA, 4 min.
Trip to Carolee runs quickly through still images of things passing: an apartment, a typewriter, a bridge, the road, as Marjorie Keller and Coleen Fitzgibbon drive to Carolee Schneeman's. Fitzgibbon paints an intimate portrait of the travel between the city and the country and back, tracing her surroundings in accelerated, yet attentive ways.
LOST OASIS
Dir. Liza Béar, 1982
USA, 10 min.
Shot in 1982 in a bizarre Californian landscape, Lost Oasis, is an ambulating narrative with the desert at its core. This short film takes on the airs of a mirage as a loosely structured and evocative drama unfolds. Lost Oasis sets up a strange parallel reality where time moves slowly through the desert, in search of a lost oasis. Starring Michael McClard.
FLORA FUNERA (FOR BATTERY PARK CITY)
Dir. Andrea Callard, 1976
USA, 4 min.
In Flora Funera (for Battery Park City), Callard explores intimate games and noises as she repeatedly tosses rocks against exposed stakes of rebar.
LOST SHOE BLUES
Dir. Andrea Callard, 1976
USA, 4 min.

In Lost Shoe Blues, Callard ventures outside her studio to survey the clover of Battery Park while singing a round with herself on the film's soundtrack.
FRAGMENTS OF A SELF PORTRAIT #1
Dir. Andrea Callard, 1976
USA, 2 min.
Callard clomps up flight after flight of stairs with giant white casts on her feet. Each pounding step echoes. When she finally removes the casts, they splinter and collapse and her bare feet emerge as though from cocoons. She enters her studio, abandoning the "fragments," and inviting the viewer to leave behind the carapaces she wears to protect and hide the self inside.
DRAWERS
Dir. Andrea Callard, 1974
USA, 12 min.
In Drawers, Callard playfully pulls the drawers of a white chest open, repeatedly hoisting a string of clothes and fabric tied together in a Rapunzel-like fashion out of the drawers until all have been emptied.
From Spectacle's website