Currently on view:
RESx (The Real Estate Show Extended)
April 9 – May 8, 2014
ABC No Rio, 156 Rivington St, NYC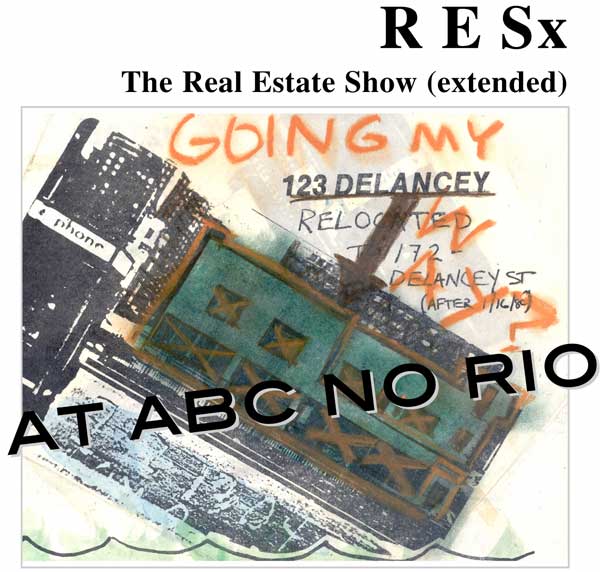 Open call to artists for real-estate related, disposable art!
*INSTALLATION & HANGING THROUGH APRIL*
CALL TO PARTICIPATION
The return of The Real Estate Show in four NYC venues (James Fuentes Gallery, ABC No Rio, the Lodge Gallery and Cuchifritos Gallery in the Essex Street Market), continues now until May 8th at ABC No Rio.
Find more about all five exhibitions HERE.

Complementing the exhibition at James Fuentes Gallery, of original work from the Real Estate Show of 1980, the show at ABC No Rio features new work on the theme of real estate, land-use, and the right to housing.
In the spirit of the original show, we are asking artists to only bring work that can be easily replaced or duplicated. We don't want to break the heart of any artist if their work is destroyed. ABC No Rio remains a rough and ready space. The exhibition will share the gallery with No Rio's punk matinee every Saturday afternoon. Although there is no size limit, you may wish to think small – like Vermeer. Big is OK, but likely will be layered over as new work comes in. Participating artists are encouraged to stop by on Sunday afternoons during the run of the show to see how the installation has evolved and to add to it, or to replace work. (ABC No Rio)