Moving Image Artists' Distribution Then & Now
July 18, 2013 at 6PM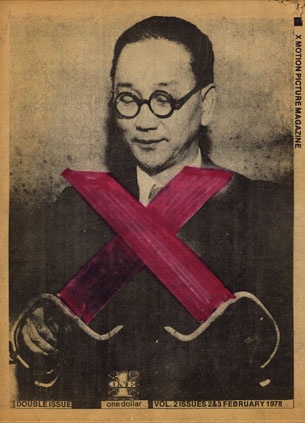 Cover Image: Second issue of the Colab-sponsored publication X Motion Picture Magazine. Cover design by Michael McClard, 1978. Courtesy Colab

An ersatz assembly of participants from the MWF Video Club and Colab TV projects includes opening remarks from Alan W. Moore, Andrea Callard, Michael Carter, Coleen Fitzgibbon, Nick Zedd, and members of the New Museum's "XFR STN" team. Followed by an open discussion with the audience, facilitated by Alexis Bhagat.
PARTICIPANTS
Alan W. Moore is an art historian and activist whose work addresses cultural economies and groups, and the politics of collectivity. Moore helped to found ABC No Rio after participating in Colab's Real Estate Show (1979). He is the author of Art Gangs: Protest & Counterculture in New York City (2011), which explores the work of artist groups formed after 1968, such as the Art Workers Coalition and Group Material, collectives that greatly informed today's international art world. He is also the coeditor of the book ABC No Rio Dinero: The Story of a Lower East Side Art Gallery (1985).
Andrea Callard is a New York–based artist. Her artwork and films have been exhibited at MoMA, P.S.1, the Walker Art Center, White Columns, Exit Art, and many other places. Her new feature-length compendium, Talking Landscape, screened at DOXA 2013. In 1980, Callard assembled the lobby of the "Times Square Show," a seminal exhibition by Collaborative Projects, Inc. (aka Colab). In 2011, Congress preserved her short films 11 thru 12 and Fluorescent/Azalea. Currently, Callard produces media for Green Planet 21, documenting and promoting their industrial recycling and sustainability initiatives.
Michael Carter is a poet, writer, performer, and cultural critic living in New York City. From 1982–92, he was the editor and publisher of the quintessentially East Village literary and arts journal/zine redtape, and from 1988 to 2003 he was codirector of the MWF Video Club. His poetry and fiction have been published in many magazines and anthologies, including The Outlaw Bible of American Poetry, Up Is Up, But So Is Down: NY's Downtown Literary Scene, 1974-1992, and From A Terrace in Prague. He is the author of two book of poems, Broken Noses and Metempsychoses (Fly By Night Press, 1996) and On Bolus Head (Cill Rialaig/En Garde Books, 2012).
Coleen Fitzgibbon is an experimental film artist who shows in museums, galleries, and film venues, including the New Museum, MoMA, Vienna International Film Festival, MOCA LA/Filmforum, TIFF, Salon94, Anthology Film Archives, Light Industry, Subliminal Projects Gallery LA, Oberhausen Film Festival, Boda Seoul, and others. Fitzgibbon also formed the collaborative X&Y with Robin Winters, the Offices of Fend, Fitzgibbon, Holzer, Nadin, Prince, and Winters, and cofounded the artist group Colab in the late '70s with Alan W. Moore, Andrea Callard, and others. Fitzgibbon was interviewed in Bomb magazine in spring 2013; she currently resides in New York City and Montana.
Nick Zedd coined and spearheaded the Cinema of Transgression film movement, directing forty-four motion pictures since 1979 and editing the Underground Film Bulletin from 1984 to 1990. Nick Zedd currently resides in Mexico City where he paints, writes screenplays, shoots videos, and publishes Hatred of Capitalism magazine. He recently presented films and artworks at Kunst-Werke Institute for Contemporary Art in Berlin, and received an Acker Award for Lifetime Achievement in the Avant-Garde.
Alexis Bhagat is a listener, correspondent, and conversationalist.