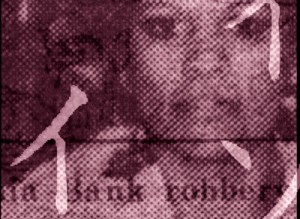 MASSART FILM SOCIETY
presents:
COLEEN FITZGIBBON: DIARY FILMS
Wednesday November 16, 2011 8pm
FILM Dept Screening Rm 1
Artist In Person!
An evening of recently preserved short experimental film works the by New York based artist Coleen Fitzgibbon. For the past few years, Fitzgibbon has been actively preserving and screening her early Super-8 and 16mm films, many of them not screened since the mid-70's. This program will include a selection of intimate cinematic sketches, portraits, travelogues and home movies.
PROGRAM:
Trip to Carolee, [1974/2011, Super 8mm xfr'd to digital, color, sound, 5:08 min.]
L.E.S., [1976/2011, digital, color, sound, 16:22 min.]
FM/TRCS, [1974, 16mm transferred to digital, color, sound, 11:48 min.]
Restoring Appearances to Order in 12 minutes, [1975, 16mm xfr'd to digital, b/w, sound, 10:28 min.]
Make a Movie, [1975/2011, Super 8mm xfr'd to digital, color, sound, 9:16 min.]
X Magazine Benefit, with Alan W. Moore [1978/2011, Super 8mm xfr'd to digital, b&w, sound, 11:40 min.]
Coleen Fitzgibbon is an active experimental film artist who previously worked under the pseudonym "Colen Fitzgibbon" between the years 1973-1980. A student at the School of the Art Institute of Chicago and the Whitney Independent Study Program, she studied with Owen Land (aka "George Landow"), Stan Brakhage, Yvonne Rainer, Carolee Schneemann, Vito Acconci, and worked on film and sound projects for Dennis Oppenheim, Gordon Matta-Clark and Les Levine. She formed the collaborative X&Y with Robin Winters in 1976, The Offices of Fend, Fitzgibbon, Holzer, Nadin, Prince and Winters in 1979, and is best known for co-founding the New York based Collaborative Projects, Inc. (Colab) in 1977 through 1981, along with forty plus artists.
Fitzgibbon has screened her work at numerous international film festivals, museums and galleries, including The Toronto International Film Festival; Museum of Modern Art, NYC; Gene Siskel Film Center, Chicago; Palais des Beaux Arts, Brussels; Institute of Contemporary Art, London; Anthology Film Archives, NYC; Light Industry, NYC; De Appel, Amsterdam; Exit Art, NYC; Subliminal Projects Gallery, LA. Fitzgibbon currently resides in New York City and Montana.
Entrance to MassART Film Society is through Public Safety on TETLOW ST.
http://massartfilmsociety.blogspot.com/