Art & Ephemera from 98 Bowery, 1969-89
December 19th – December 28th, 2014
Opening Reception Friday, Dec. 19, 6pm to 9pm
curated by Marc H. Miller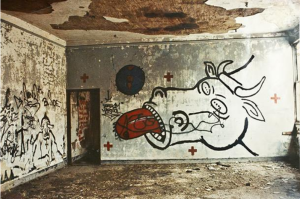 Opening Friday, December 19th, The Lodge Gallery is proud to present Art & Ephemera from 98 Bowery, 1969 to 1989. Every era creates its own type of art object. The multiples, political statements, and ephemera in this exhibition are representative of the deliberately transient quality and populist impulse of art in the 1970s and 80s.
Artists in this show include Charlie Ahearn, John Ahearn, Marc Brasz, Colette, Thom Corn, Jane Dickson, Stefan Eins, Sandra Fabara (Lady Pink), John Fekner, Peter Fend, Coleen Fitzgibbon, Bobby G (Robert Goldman), Mike Glier, Group Material, Keith Haring, Curt Hoppe, Becky Howland, Baird Jones, M. Henry Jones, Lisa Kahane, Christof Kohlhofer, Marisela La Grave, Don Leicht, Dick Miller, Marc H. Miller, Richard Mock, John Morton, Tom Otterness, Phase 2, Bettie Ringma, Walter Robinson, Christy Rupp, David Schmidlapp, Arleen Schloss, Kiki Smith, Susan Springfield, Anita Steckel, Jehnifer Stein, Anton Van Dalen, Arturo Vega, Tom Warren, Robin Winters, David Wojnarowicz, Y Pants, and more.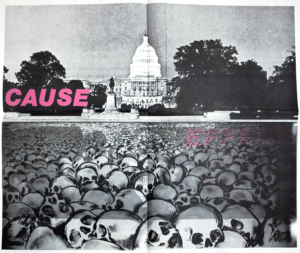 The website 98bowery.com tells the story of the downtown art scene in the 1970s and 80s as I experienced it living in the top floor loft at 98 Bowery. These were bleak years for New York marked by economic decline, crime, drugs, and in many sections of the city, a desolate landscape of abandoned buildings and rubble-strewn lots. But for the young artists living in the Lower East Side during one of its worse moments there was a silver lining: cheap rents, camaraderie, plenty of real-life inspiration, and a do-it yourself ethos that made anything possible. To use the ironic phrase coined by artist Joseph Nechvatal, downtown was an "Island of Negative Utopia." As an artist, curator, and writer, I had a ringside seat for much of the action. Just down the street from 98 Bowery was CBGB where a revolution in music, art and style was unfolding. Art was no longer confined to traditional galleries. Graffiti and street posters covered the walls, and exhibitions were held in nightclubs and squatted buildings. With limited access to the commercial mainstream, artists made things for themselves and for their peers. Works were created quickly and cheaply for short duration theme exhibitions and artist-run stores. New formats emerged: performance, video and independent film. Much of the action that I knew centered around Collaborative Projects Inc. (COLAB), the loosely organized artist group that was responsible for the Real Estate Show (1980), the Times Square Show (1980), and the art spaces Fashion Moda in the South Bronx, and ABC No Rio Dinero on the Lower East Side.
Every era creates it's own type of art object. Multiples, political statements, and ephemera are representative of the deliberately transient quality and populist impulse of art in the 1970s and 80s. This exhibition at the Lodge Gallery includes treasures that I acquired during that time, as well as vintage works that I have collected more recently for Gallery 98, the online store of 98bowery.com. In selecting the items, I have not held back. Many are masterpieces whose rich historical and aesthetic content rivals that found in more conventional art objects.
– Marc H. Miller, 98bowery.com